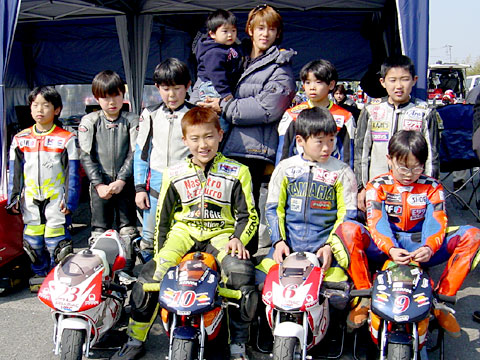 DAIJIRO – CUP has started since the March of 2003, in order to actualize Daijiro's dream to impart the enjoyment of motorbike toward younger generation and bring up future champion. The mission to convey Daijiro's heart has been represented by organizing and operating DAIJIRO – CUP pocket motorbike race by DELTA ENTERPRISE Co.,Ltd. that has been conducting Daijiro's management. We has taken over Daijiro's will, and will contribute our efforts to motor sports promotion.
OUTLINE OF THE RACE
The title:
DAIJIRO – CUP CA Pocket Bike Race / Motor Champion East Japan Mini Bike Race Tournament will be held at the same time
Organizer:
Circuit Akigase L.R.C…
Sponsorship:
DELTA ENTERPRISE Co.,Ltd. (Daijiro. net)
Cooperation:
Nippon Life Co. Ltd.
Opening Class:
1: Normal 30/40
Normal Class entry is limited to normal engine bike which is not remodeled or altered. The entry who weight less than 40kg are allowed to ride on 30cc bike, and others who weight over 40 kg are admitted to 40cc. Since its popularity, many entries will participate in this race. Therefore actual race will be held by dividing all entry who are qualified to group A and B, after the preliminary race.
2: Open 30/40
Open Class entry is not limited to remodeled or altered bike. To participate this race, entry can select their own machine without regard to weight and engine size. 40cc machine has more fighting power in general, however it's may be uncontrollable, too. In that case, 30cc machine can be better choice.
Qualifications:
The race entry is limited to the person who hold Circuit AKIGASE circuit license, or who hold the license for other MOTO-CHAMP-CUP championship course.
Entry Fee:
For one class : 4000 yen plus 1500 yen (insurance coverage)
Entory and further details:
Circuit AKIGASE Co.,Ltd.
1099 KAMI-OHKUBO SAKURA-KU SAITAMA-City Saitama-Pref. JAPAN
TelFax : 048-855-7862 Fax : 048-854-8280