Present future super mini bike "74 Daijiro" on July 4th, 2004
DELTA ENTERPRISE is proudly present the alternative super mini bike "74Daijiro" which is to convey Daijiro Kato's will of to promote the enjoyment of motor sports and bring up next generation's champion.
[74Daijiro] has produced and provided by DELTA ENTERPRISE Co.,Ltd. ,and that carries Daijiro's Daijiro to impart the enjoyment of motorbike toward younger generation.
Our mission to convey Daijiro's heart has been represented by producing and providing futuristic super mini bike – 74 Daijiro, and organizing and operating DAIJIRO – CUP super mini bike race after his will.
Our heart is always with Daijiro's, and will contribute our efforts to motor sports promotion.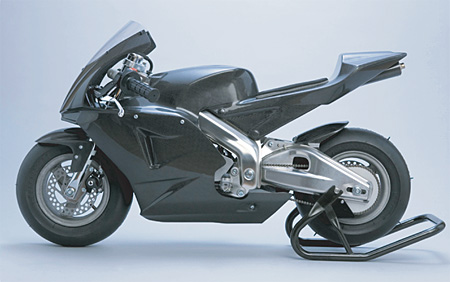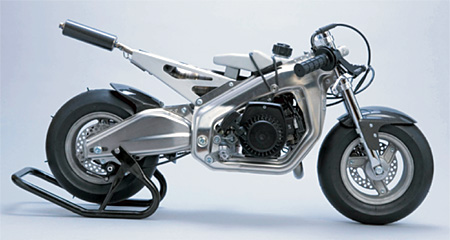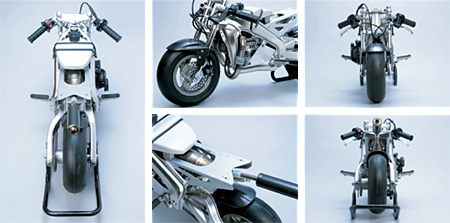 < MACHINE DATA >
Overall Length : 0.930m     Tyer Size          : 90/70-6
Overall Width  : 0.420m     Engine Type        : 2cycle Single Cylinder
Overall Hight  : 0.540m     Displacement       : 40.2cc
Wheelbase      : 0.650m     Starting System    : Re-Coil
Road Clearance : 0.060m     Clutch Type        : Centrifugal
Seat Hight     : 0.380m     Fuel Tank Capacity : 1.0L
Frame Type     : Double Cradle
Brake Type     : Mechanical Disk
[74Daijiro] has many significant characteristics; tire size is altered to 6 inches from original 4 inches, disc type break system is adopted to front break. These features are beyond conventional super mini bike, 74 Daijiro has potentialities to be sifted to mini bike or road race in the future.
For more detail…:
DELTA ENTERPRISE Co.,LTD.
54-1 Shirakuwa Sakura-ku Saitama-City Saitama-Pref JAPAN
Tel : +81-48-854-0020 Fax : +81-48-421-7401
e-mail : shop@daijiro.net